In Germany, Zwiebelkuchen is a traditional food for fall. A slightly crispy dough topped with both sweet and spicy onion slices, kept together with a fluffy layer of egg cream. Caraway seed helps making this delicious tasty cake a hassle free experience 😉
So today I'm sharing with you my family recipe for onion pie. Ever since I can remember, my family has had this exact onion cake. And believe me: it's the best you can get!
I've tried other variations, both homemade and local, but none have tasted as delicious as this simple recipe.
In Germany it is made with a simple Quark-oil dough and does not rise as much. Therefore, it is also less "doughy" and more like a pizza with lush toppings.
As Quark is mostly not available outside Germany, you can replace it with sour cream. Other options are to use convenience products like ready to use pizza dough or pie crust.
Ingredients for a sheet of the most delicious onion cake
for the dough
2.5 cup all purpose flour
1 Teaspoon of baking powder
1 cup of Quark or sour cream
6 Tablespoons of oil
6 Tablespoons of whole fat milk
bit of salt
for the topping:
2 cups onions in rings
1/2 cup of butter or margarine
1/2 cup of bacon, diced
1/2 cup of grated mild cheese, eg Gouda
1 Egg
1/2 cup of cream
pepper
2 Teaspoons caraway seeds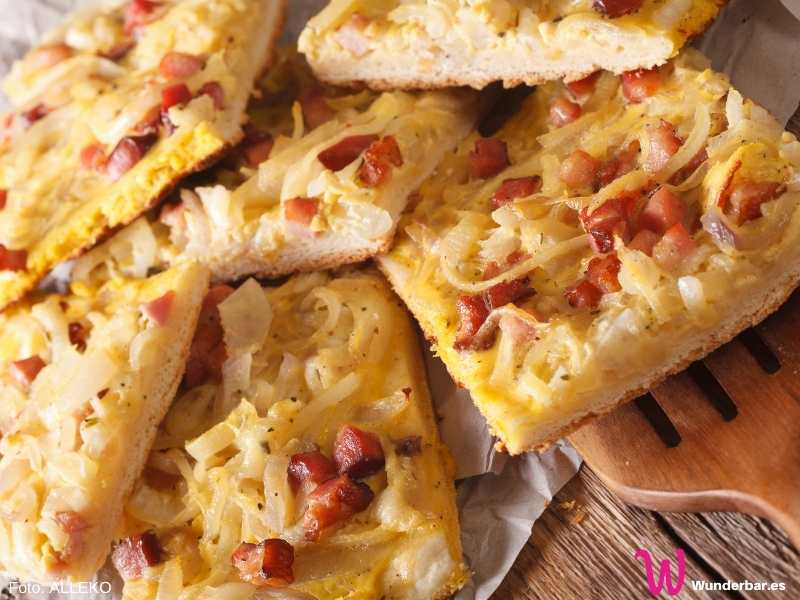 Instructions – how to make Zwiebelkuchen
Sauté the onions in hot fat until translucent. Stir in caraway seeds and season with pepper. Leave to cool.
Mix the flour with the baking powder. Add the Quark or sour cream, milk, oil and salt and knead with the dough hooks until smooth.
Cut the bacon into cubes and grate the cheese.
Preheat oven to 200°C top and bottom heat or 170°C convection oven.
Lightly grease a baking tray or line with baking paper. Roll out the dough evenly on it.
Spread the cooled onions on the dough and add the bacon cubes on top.
Sprinkle the cheese on top.
Whisk the egg with the cream and season with salt and pepper. Slowly pour over the onion cake so that some of it gets everywhere.
Bake for 20-30 minutes. It tastes most delicious when still warm. In Germany, it is often accompanied by fresh Federweisser, a very young, unripe wine with little alcohol, or a delicious light grape juice.
Feature image: ALLEKO
Are you into German food? You might as well like my favourite apple cake!
And please follow me on Pinterest!