Close your eyes and think of apple cake. Whatever you may see, I have something better for you! A delicious juicy German apple cake. Spongy, creamy, filled with delicious apple pudding. Try it and fall in love!
Ingredients for the German apple cake
3 eggs medium size
1/2 cup of sugar
1/2 cup of flour
Cake tin 9 inch
Cake ring
1.5 lbs apples, best mixed sour and sweet, red and green
1 tbsp instant pudding powder cream or vanilla
2 cups of apple juice
1/4 cup of sugar

1 1/4 cup cream
1 3/4 cup of ideally Magerquark or, if not available, cream cheese or a mixture 1:1 of sour cream and cottage cheese with a little shot of lemon juice
1 3/4 cup of confectioners' sugar

2oz semi sweet chocolate bar
Instructions
Whisk eggs and sugar for about 10minutes until the dough turns white. Pour flour about the dough and stir just until the flour is not visible at the surface anymore.
Put into the tin and bake for 20 mins at 170°C / 330°F.
Let it cool down and take it off the tin. Put the cake ring tightly around the sponge cake.
Divide apples into four, remove cores and cut into fine thin slices.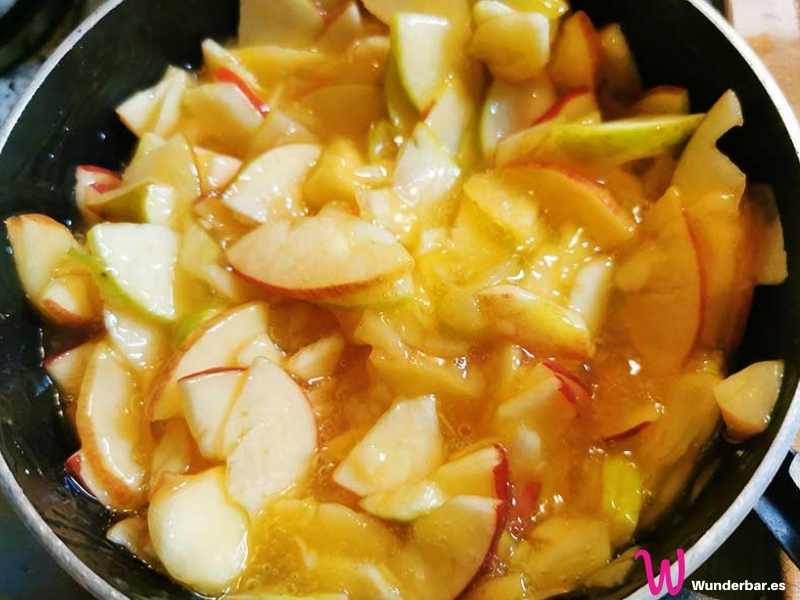 Whisk 5 table spoons of apple juice with the instant pudding powder. Bring the rest of the apple juice and 1/4 cup of sugar to boil.
When boiling, switch off the oven, stir pudding powder-apple juice mixture in and let it boil up for a very short moment.
Now add the apple slices and let it sit for a few minutes.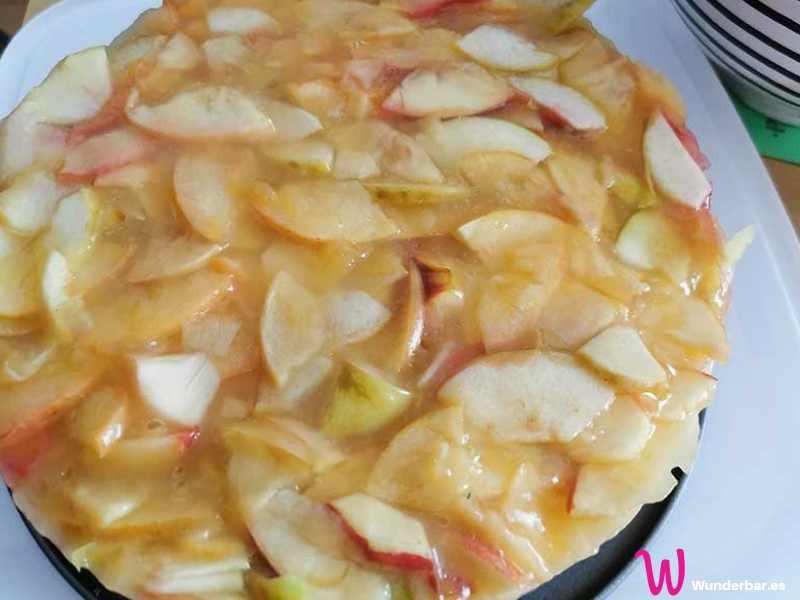 Fill the apple pudding on the sponge cake. Let it chill and the put in the fridge at least for 2 hours, better overnight.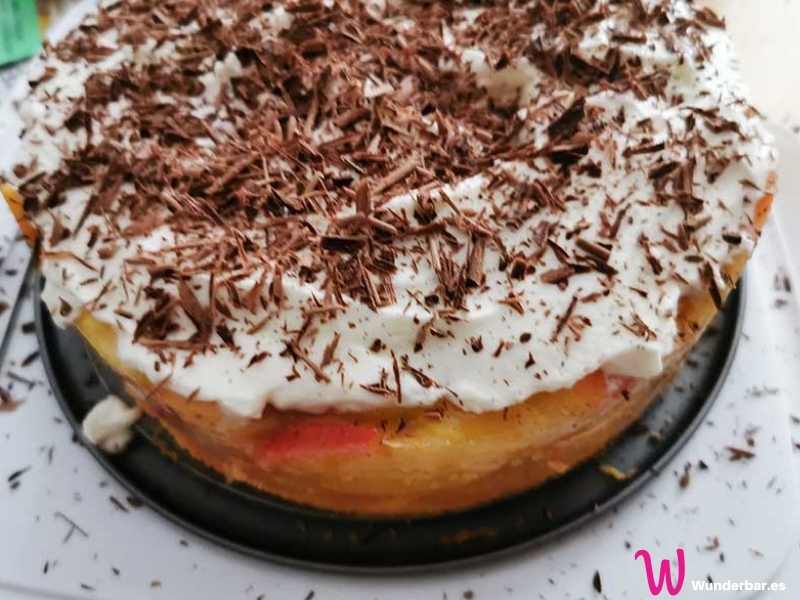 Whip the cream. Mix Quark, cream cheese or the quark replacement from sour cream, cottage cheese and lemon juice. Stir into the whipped cream.
Remove the cake ring carefully from the cake. You may need to release the ring using a knife, if the pudding is tooo sticky.
Put the cream mixture on top of the pudding.
Grab a peeler and peel chocolate over the cream generously.
Guten Appetit! – Enjoy your cake!