Clean your oven cleverly!
Cleaning the oven – an often ungrateful job. Burnt-in splatters of gravy and cheese stuck firmly in place. Those who often do roast chicken in the oven, know about the greasy spots. Pizzas dripping cheese and grease. Or, when you take it out, you tip something and there's a new stain on the door.

You will find plenty of cleaners at the drugstore to make these things undone. But unfortunately, they are harmful to the environment and not cheap. Personally, I find that they just smell unbelievably toxic and I don't like them.
How to clean your oven very quickly
An alternative must therefore be found. Preferably, gentle household remedies, of course.
I have tried a few different things in my kitchen to help make my job of cleaning the oven easier.
Along the way, I also came across the homemade self-cleaning mixes. I have tried them until I found the ultimate recipe that could really remove all traces of last year's Christmas roast goose in our oven.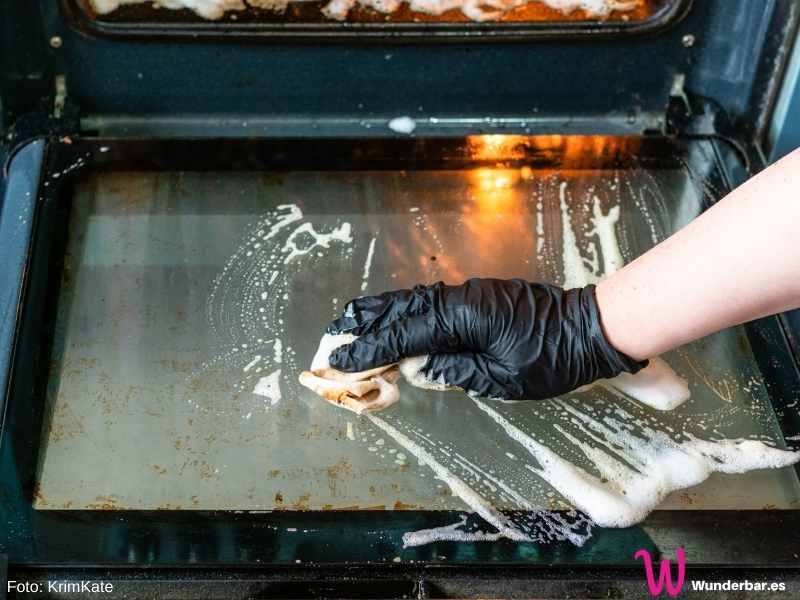 I have had the best experience with the following mixture:
1 sachet of baking soda
250ml of warm water
100ml of vinegar essence
Stir and moisturize the tough crusts with it.
Be sure to wear gloves when doing this step, the mixture is very drying to the skin!
I have put the rest of the solution in a wide casserole dish, so everything can evaporate well. In the process, the solution adheres to the stains and crusts and dissolves them.
Backofentür zu und bei 100°C ungefähr eine Stunde arbeiten lassen.
Close the door of the oven and let it work at 100°C for about one hour.
Cleaning the oven – this is the way the oven does it by itself
After one hour it was a real pleasure: the "cleaning steam" has dissolved all the stains and they were easy to wipe off.
Considering how long we sometimes spent on our knees and the amount of force we used when our junior burned pizza cheese into the oven …. THAT'S a trick we wish we'd known much earlier.
Give it a try – we're sure it will leave you just as happy as it made us!
Let us know how well this worked out for you. Share this tip with your friends so that they can spend more time with their families!
Bookmark this page on Pinterest and you can find it again without searching too long.